This is part 3 in Three-legged stool for successful growth processes series. Click here to see Part 1 And the Here to watch Part 2. Stay tuned for Part 4, which is coming next week.
Correct construction
Aerobic and hydroponic systems breed plants at a very accelerated rate. The "clean room" type of building approach is the best way to manage this type of growth. Starting with a facility that is completely free of any type of wood or porous materials is a good start. Cellulose materials collect moisture and encourage the formation of mold and mildew, no matter how good the sealant.
We've seen planting spaces built of drywall over wood and stud construction that look sealed and solid on the outside of the walls but when repaired for plumbing or other expansion work, they're black on the inside and covered in nasty mold no one wants to go near their growing space.
Building panels over steel frames or steel studs with decks is a safer and more sterile method than modifying a wood structure. Panel construction offers the added advantage of quick assembly and minimal labor costs. We've seen 300 light rooms collected in just a few days, so it's very cost effective and safely sealed for protected growth.
Room sizes and number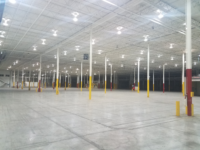 If you have unlimited space, temperature and humidity management should determine the room sizes in your facility. Square room sizes tend to be easier to maintain from an environmental point of view. Long, narrow chambers are good for fan airflow but tend to be more expensive from a cooling and dehumidifying standpoint. The larger the room, the more likely you are to have 'microclimates' inside the room which can challenge productivity improvement.
Now, of course, many growth runs are retrofits to existing structures, so compromises may be necessary. We have found that growers with very large and medium-sized rooms in the same facility (200 lights vs. 70 lights) are consistently more successful in 70-light rooms. These "smaller rooms (about 1,500 square feet) outpace and outperform larger rooms using the same genetics and growth plans. Partitioning also reduces the risk in the event of a disaster (such as a pest infestation) in the room. In a large room scenario, losses can occur. in damaging your operation.For this reason, we recommend 70-100 light chamber/tub as standard.
Rooms should also follow the economics of your nursery. Structuring your nursery to produce a sufficient number of clone plants/vegetables for the next flower room avoids wasting plant materials and resources. Dividing a larger space into individual rooms means that you need fewer vegetable plants to fill your flower room that week. The best way to improve this is to have a number of chambers symmetrical with the number 8 (typical genetics for an 8-week cycle).
With 8 rooms working flowers, you can grow 1 room per week for 8 weeks. at 9The tenth A week, you start again in room 1. This continuous harvesting process is very efficient from a labor standpoint and reduces the size of your mothers room (cost center). Additional space can be applied to your flower rooms. If you don't have infinite space, even divisors work too; Two or four chambers can be planted in series for the same improvement (for two-room structures, harvest and replant one chamber every 4 weeks for example). An optimized structure (8, 16, 24, or more rooms) enables you to improve your profitability. If any of this needs further clarification, please just ask.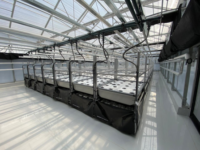 Within your choice of room, movable rows or columns of sinks/lights also provide ideal returns. Pots/plants can be moved together for light use efficiency and a 3-foot walkway can be opened for plant maintenance. Shelving systems or movable trays/tubs make this convenient nowadays.
Floors
Concrete floors provide pockets for bacteria to collect and flare up. As such, it must be sealed. Proper application of your choice of sealant is required so that it does not crack or crack after sealing. There are many benefits of sealed floors that are discussed in the white paper. Floor drains are the gateway to hell for a sterile growth process. Avoid them at all costs.
Phased build
Adjusting or optimizing your grow rooms for optimal flowering depends on your location. Our advice is that you build and improve your facility in stages with the expectation that nothing is perfect and you will learn improvements at each stage of expansion. The immediate benefit is the production you can promote to sales channels and revenue starting as soon as possible to improve your profitability. This is also an excellent learning curve to apply to later rooms. Our happiest customers are those who learned building improvements in early rooms that could be applied to subsequent rooms without a headache. Being able to focus on one or two rooms also allows you to get the right recipe instead of just relying on "arranging" them.
Do not rush to go green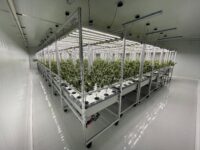 Check the health and stability of your water supply. Verify that the water in the aerated or hydroponic feed that reaches your plants is clean and sterile. This is much easier in a step-by-step manner than it is in a crunch-correction mode once production is in progress. Be very careful about the cloning supplies received. We'll talk about this more in the next chapter on integrated pest management, but incoming clones are some of the most important pest vectors that can contaminate your entire facility.
Warehouses versus greenhouse cultivation spaces
As we started, controlling your environment is your top concern. We have seen success in both indoor rooms and greenhouses. The defining success factor is humidity and temperature control. Modern controlled environment (CEA) greenhouses do a good job, and CEA is somewhat given for indoor growing. More details on this in the white paper.
Encapsulating these recommendations leads to the perfect bodywork for your Formula 1 racing car. Now, you're ready to take a look at some of the mechanisms for protecting your process from pesky little critters and biological materials that can hamper your operation and weaken your engine.
Before we checkout this week, I wanted to highlight the final build we've seen so far. Of course, there are many competitors who have done it well but at this point, FarmaGrowers In South Africa the best thought out facility we've seen. They have achieved Good Manufacturing Practices (GMP) and Good Agriculture and Harvesting Practices (GACP) certification early in their operations due to their well-thought-out designs. They are exporting to world markets without irradiation today. Certainly, many of the successful clients have beautifully thought out processes and there are many upcoming facilities that offer stunning planning that would challenge that crown, but for now. FarmaGrowers leads the pack in this aspect. look here to roam.
To download the complete guide and get to the beef quickly, please request the full white paper High quality cultivation facilities here.
Stay tuned for Part 4 which will be released next week where we will discuss Integrated Pest Management.