Canon Morey, a student at UCLA, works to improve healthcare while bridging cultures and disciplines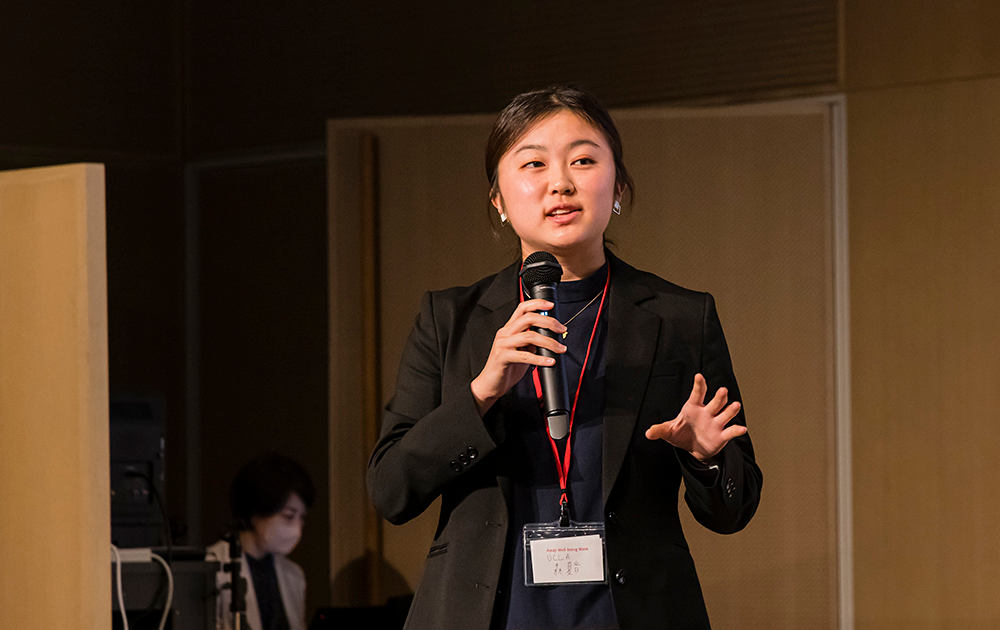 Fourth-year UCLA student Kanon Mori, an organizer of Japanese-American medicine innovators, speaks during a presentation last November to entrepreneurs, investors, doctors and pharmaceutical executives on Awaji Island, Japan.
---
Lucy Perbio | January 12, 2023
Many students embark on their college journey with the goal of finding true meaning of purpose. Canon Morey found hers during her first year at UCLA, and spent her time as an undergraduate to that end.
Born in Los Angeles to Japanese parents, Mori grew up bilingual and passionate about bridging Japanese and American culture. After excelling in STEM and an interest in medicine, she chose to major in Computational and Systems Biology, an interdisciplinary program at UCLA College that trains students to solve biological problems by combining science, mathematics, and computing.
In classes on public health and health policy, Morey learned about the inequalities in the health care system in the United States and decided to help turn things around on a global scale. "I realized that potential technological innovations could revolutionize the entire industry," says Morey, who is due to graduate this June. And UCLA is the gateway to the United States from Japan's perspective. With world-class medical research and technological innovations, I knew I had to take advantage of being a student here to start a project."
Morey cooperated With students from Stanford University and medical schools in Japan, including the University of Tokyo, Osaka University, and Kyoto University. Together, and with the support of academic institutions, businesses and individuals, they have been at the forefront Japan-American Medicine Innovators, or JAIM Pioneering student-led efforts to address the global challenge of dementia healthcare and to promote cooperation between the United States and Japan in medicine development.
Dementia, including Alzheimer's disease, is on the rise worldwide and especially in Japan, where more than a quarter of the population is 65 or older. JAIM leaders, including Mori and her counterparts at Stanford and Osaka, recruited nine students from Stanford and UCLA to participate in bootcamps, then flew them to Japan to visit dementia care settings, observing first-hand the need and finding solutions. Back in the United States, the students spent the next four months working under JAIM to develop prototypes of medical devices intended to help dementia patients and caregivers around the world. By addressing the urgent need in Japan, JAIM aims to find solutions before the problem becomes acute in countries like the United States
---
Morey says the success of the rigorous program owes much to the leadership and dedication of all participants. "We all put our passion into this project," she says. "Each of us brought our own strength to the table, and we all had an unwavering confidence that what we were doing was of value to the world."
Since completing their prototypes in November, many participants have presented and gained interest at national and international conferences. Morey says JAIM will be attending in February MedTech UCLA Partnership Conference Hosted by the UCLA Technology Development Group in order to get the guidance and resources needed to launch their prototypes into production.
Morey describes JAIM's leadership as "challenging to say the least"—she and her team spent a year developing the software, which she says felt like running a startup as well as a full-time student—but she found it incredibly fulfilling.
"My mission in life is to build a bridge between Japan and the United States by connecting resources and people in the field of medicine," she says. "And entrepreneurship is great for me — through the many failures and the endless uphill battle, I feel alive."
The same spirit drives Morey's winning efforts as part of the UCLA triathlon team. "You can find us gasping for air as we slowly pedal our way up the steep hills of Malibu with our road bikes early Saturday morning, or charging in the crashing waves of Santa Monica for an open water swim before heading back to campus for semester." , "Says. "It's a group of people with physicality, quirkiness, and impulsiveness who make triathlon a fun athletic challenge."
She says Morey's ultimate goal is to develop a product or service that will make health care more accessible, affordable and effective through technological innovation in the business. She envisions herself working as a Product Manager, International Business Development Director or maybe even the creator of her own project. Currently, as she finishes her freshman year, she is enjoying the many opportunities that UCLA has to offer.
"There really is no place like it," she says. "It's so exciting to be here, just imagine what could begin in such an environment. I am grateful for every professor, expert, and fellow student who has changed my life in such a profound way."
---