aAfter the final whistle, after the booing and brawling had subsided, when Arsenal's regulars stood and danced their way to their fans in the corner, Yves Bissouma stood alone in the Spurs half watching them. Watching with longing and envy, perhaps with a certain curiosity. Fun? pleasure? a celebration? What are these strange new things?
By that point, of course, Bissouma's teammates had long since retired to the warmth of the dressing room. They didn't want to stay there anymore, and neither did the Tottenham fans who were already going down the highway looking for liquid amenities. Antonio ConteBecause he never gets tired of telling us, he still wants to be here. Ideally. Several important conditions are met. It couldn't be his fault, after all, that the club continued to disappoint him in this way.
Conte is one of the greatest coaches in the world. No quibbles there. But some coaches and clubs are simply not right for each other. Tottenham have so far played six matches against the rest of the seven big teams and have lost every match, with the exception of a late draw with Chelsea. What is the purpose of Conte's intelligence and expertise if not to navigate the biggest games? How many players have improved under his leadership, developed, and found new levels? If you were the sporting director of Europe's elite club looking to raid Tottenham for top young talent, who would you look to to build a team around over the next five years?
Definitely Diane Kulusevski. It might be Rodrigo Bentancourt and Christian Romero. Harry Kane and Son Heung-min, fitness pass. The rest you may ignore. Bassoma, who fell to such fanfare in the summer, backtracked. Same for Ryan Sessegnon. Spence's grandfather might turn out to be a gamer, but we just haven't found out anytime soon. Pape Sarr is promising, but throwing a newcomer into a two-vs-four midfield ambush in a game of this magnitude was an act of utter negligence, and one with predictable consequences.
None of this is really the problem, though. As the Spurs desperately tried to feel their way into a game that started without him, the gilded stench of dysfunction wafted from every opening. Heavy touches. It goes straight out of play. Passes to static players who have no room to maneuver. A truly incredible percentage of Tottenham's attacks ended up at the feet of Hugo Lloris, as if they were trying to score the team's perfect goal in reverse. At one point Pierre-Emile Hojbjerg attempted a slash-pace to Kulusevski and ended up not only taking him out of play, but sending him halfway to Hornsey. There is fear here, fatalism, a foolish law in the form of a football club. What if this card breaks? What if you lose possession? What if Arsenal responded? Make no mistake. Don't make a mistake.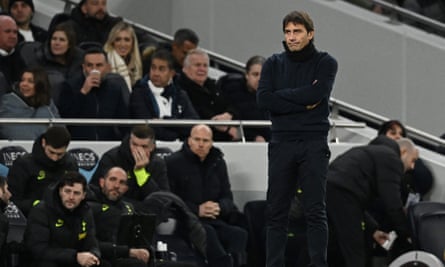 Do you remember the first Arsenal match after the World Cup? West Ham at home. Everyone wonders if they still have them. Whether the break will kill their flow. They go aim. And the noise that rises around them is something godly: a howl of defiance and faith, a storm crying out in a storm. The players still remember him fondly. Martin Odegaard mentioned it last week. It was their fortifying moment.
Here, Tottenham fell with a goal. no thing. Just the hissing of leaking air, numbness, stupidity. What if Arsenal win the league? What if Kane leaves? What is this thing that prompted us to watch it? Our bills keep going up, nothing works, last year's Golden Boot winner forgot how to catch a football and it's been raining for about four months. Better to sit quietly and wait for this to pass, which it won't.
There are a lot of things here that aren't Conte's fault, but one thing is important. Conte is not responsible for the years of dysfunction that preceded him, the bewildering decline of a son, and the uneven team he inherited. It's not Conte's fault that Arsenal are as good as they are, their movement so precise, an extreme arrangement in extreme chaos clothing, Odegaard is a man who plays in person, Bukayo Saka is a winger who simply refuses to let you have a ball.
But when a manager's commitment to the club is so conditional, why should anyone else sweat and bleed for it? Conte is not linked to this project as Pep Guardiola belongs to Manchester City or Jurgen Klopp to Liverpool. He does not sympathize with Tottenham the way Mikel Arteta does with Arsenal or Gareth Ainsworth with Wycombe. This is a job, and a time-limited job at that, a job to keep him going until something better comes along. His priority, professionally speaking, is simply not to mess up. Understand that, and everything you see on the field makes more sense.
Where we go from here is anyone's guess. Conte's tenure on the throne should at least end Daniel Levy's masochistic obsession with managers who believe the club is below them. A club the size of Tottenham should not try to hire the last great manager, but the next, a visionary who can pick through this mess piece by piece, keeping what works and weeding out what doesn't. At the very least, you should find someone who really wants to be there unconditionally. Why, in fact, should any club accept less than that?