15 Indiana (10-4, 1-2) blew a 21-point halftime lead against Iowa, eventually falling to 91-89 Thursday night at Carver-Hawk Arena in Iowa City.
Hockey breakout star Chris Murray It ended with a high game 30 points on 11 of 18 shooting and 10 rebounds in 40 minutes. Senior old man Philip Repraca He helped anchor the Iowa frontcourt with 19 points and 10 rebounds in 38 minutes. Wing duo Connor McCaffrey And Patrick Sandfort StHe scored 16 and 11 points, respectively.
back All-American preseason Trace Jackson Davis He couldn't have come at a better time than Indiana, but it wasn't enough as he finished with a team scoring record of 30 points and nine rebounds in 38 minutes. Freshman point guard Galen Hood Chevinau IU finished in the backcourt with 21 points and nine assists in 37 minutes. Junior striker Jordan Geronimo Breaking in nine points and five rebounds, while Tamar Bates And Miller Cobb He finished with eight and six points, respectively.
In what was IU's best start to the game all season, the Hoosiers scored early and often before Iowa had time to react. It was a quick one by Jackson Davis that fired the Hoosiers in the opening minute, and from there it was a one-sided flurry of Indiana's momentum. By 13:32 of the first half, Indiana had a 28-7 lead, which seemed almost impossible for Iowa to come back from.
That is, until an accidental fall seemed to have sucked all the energy out of Indiana. After an 11-0 Iowa rally that snapped IU's lead at 35-26, the Hoosiers stemmed the tide to keep the Hawkeyes at arm's length and still within several game-tying possessions. However, with 4:27 to play in the first half, Perkins fell unintentionally Thompson Raceright calf, causing Thompson's right leg to flex awkwardly. The veteran big man was quickly ushered to the locker room and did not return for the rest of the night.
Down two starters – Xavier Johnson still adjusting from right foot surgery – and the like Renault owner (0 points, 2 turnovers, 6 minutes) Struggling so badly off the bench, Mike Woodson had no choice but to ride short bench for the rest of the game. This six-player rotation included Hood-Chevino, Bates, Cobb, Jackson Davis, Geronimo, and Trey Galloway (6 points, 25 minutes).
However, Geronimo had important shoes to fill in Thompson's absence, and those shoes seemed a bit too big at times. Before coming off the injury, Thompson had already tallied nine points and three rebounds in 10 minutes of power play. Geronimo did his best to follow in Thompson's footsteps, but his play was erratic at best.
Whether it was a technical foul that was assessed by Geronimo for a late game, or unnecessary fouls that kept giving Iowa chances to respond, the last four minutes of the first half were filled with whists, whists, and more whists. And when the dust settled, Iowa cut its 21-point deficit to just five points in the dying moments.
Despite all the mayhem and frantic pace in the closing minutes of the first half, Indiana headed into the locker room with a 50-40 lead as Jackson-Davis scored five straight points to close out the half.
Iowa's comeback bid isn't ending anytime soon, though, as the Hawkeyes responded to a three-pointer from the Bates with a 14-2 scoring run that narrowed the deficit to just 57-56. Since then, it has been a back-and-forth war with neither team pulling back more than six points in the last 13 minutes.
In the final minute, with Iowa holding on to an 87-86 lead, the Hoosiers had the ball with 22.6 seconds left and a chance to score the go-ahead bucket. Woodson used his final time to draw a play, driving Hood-Schifino into the bucket that kicked off and was rebounded by Murray, who hit subsequent free throws to make it 89-86 game.
Hood-Chevino responded with a pair of free throws on the other end, and a bad fest ensued as Iowa would not give up its 3-point lead.
With the loss, Indiana fell to 10-4 overall on the season and 1-2 in Big Ten play. Then, the Hoosiers return home to host Northwestern on Sunday afternoons at Simon Skjodt Assembly Hall.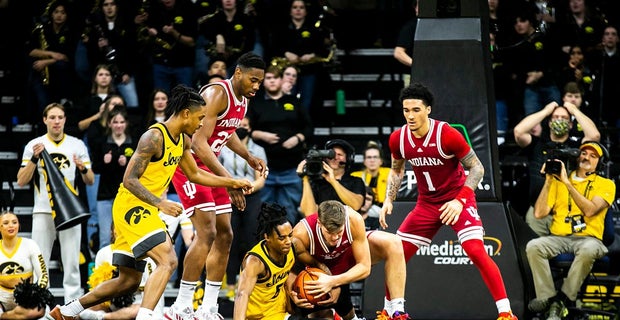 Key plays and stretches:
1H:17:38 – Galen Hood-Chevino 3 consecutive indicators (IU leads 11-4)
1H:15:37 – Trace Jackson Davis dunk -> Iowa uses the first timeout (IU leads 16-4)
1H:12:07 – Fran McCaffrey Technical fault evaluation -> Miller Cobb 2-2 ft (IU leads 30-13)
1h: 8:00 – Chris Murray 3-pointer -> Iowa in the 11-0 round (IU leads 35-26)
1H:4:27 – Thompson Race Assisted with dressing with visible right leg injury (IU leads 40-30)
1H:0:58 – Felipe Rybraca Layup + and 1 -> Iowa in a 10-2 run (IU leads 45-40)
Halftime – Indiana leads 50-40
2H: 17:40 – Tamar Bates 3-pointer (IU leads 55-42)
2H:13:31 – Connor McCaffrey 3-pointer -> Iowa in a 10-0 round (IU leads 57-56)
2H: 11:35 – Philip Rybraca Throw the ball and -1 (Iowa leads 64-61)
2H: 7:33 – Josh Dicks 3-Index -> Murray Throw the ball and -1 (Iowa leads 76-72)
2H: 5:26 – Miller Cobb Cut backdoor layup –> IU in the scoring round 8-0 (IU leads 80-76)
2H: 2:39 – Rebraca 2-2 ft (tied 84-84)
2H: 0:53 – Rebraca Errors – Jackson Davis 1-2 ft (Iowa leads 87-86)
2 h: 0:22 – Shot clock violation in Iowa (Iowa leads 87-86)
2 h: 0:11 – Murray rebound + 2-2 ft (Iowa leads 89-86)
2 h: 0:08 – Hood Chevino 2-2 ft (Iowa leads 89-88)
2H:00:06 – Sandvoort 2-2 ft (Iowa leads 91-88)